At DBT London, we offer group and private DBT therapy in a safe and secure online setting, to patients in all areas of the United Kingdom. We also welcome patients from Ireland and further afield.
If you suffer from Borderline Personality Disorder (BPD) and you would like to learn how to control your thoughts, moods, emotions and behavioural patterns more easily, please feel free to book an assessment now so we can determine the best treatment option for your condition. Assessments are also conducted online and the cost will be deducted from your first treatment invoice if you decide to proceed.
Is Private DBT Therapy the Best Choice for You?
The majority of patients that we treat choose to attend group therapy sessions as they have proven to be so effective in the treatment of BPD. However, we understand that not everybody is comfortable in a group setting, which is why we also offer private treatment sessions. If you are not sure whether private DBT sessions are right for you, please don't hesitate to get in touch with us. We will be very happy to explain all of the available treatment options and help you to choose the one that meets your needs perfectly. In the meantime, by thinking about your answers to the following questions, you should be able to get a better idea of whether private DBT therapy is right for you:
Do you have a very busy schedule?

– If you have a demanding job and perhaps a growing family to look after, it may be difficult for you to commit to attending group sessions at the same time every week. If this is the case, the more flexible nature of 1-2-1 counselling could make it the best option.

Is Cost an Issue?

– If you are looking for the most economical treatment option then group therapy is almost certainly the best choice for you. On the other hand, if you are happy to pay a little more for private sessions, this will not be a factor you need to consider.

Do you find it traumatic to participate in group activities?

– If the nature of your condition means that you are not able to participate in any kind of group activities at the moment, private therapy would definitely be the most suitable form of treatment.
Do You Wish to Discuss Personal Matters?

– DBT therapy focuses on learning new skills and making a difference to your life now rather than trying to analyse events that happened in the past. This means that patients are able to benefit from group therapy without having to worry about their privacy being compromised. However, if you have some very personal matters that you really want to discuss with your therapist, a private setting would naturally be more appropriate.

How Severe Are Your Symptoms?

– Somewhat counterintuitively, patients with less severe symptoms often find that private DBT therapy is the most effective treatment option. It may also be a good choice for patients who have completed a full course of group therapy but still need some help learning how to apply the skills they have acquired.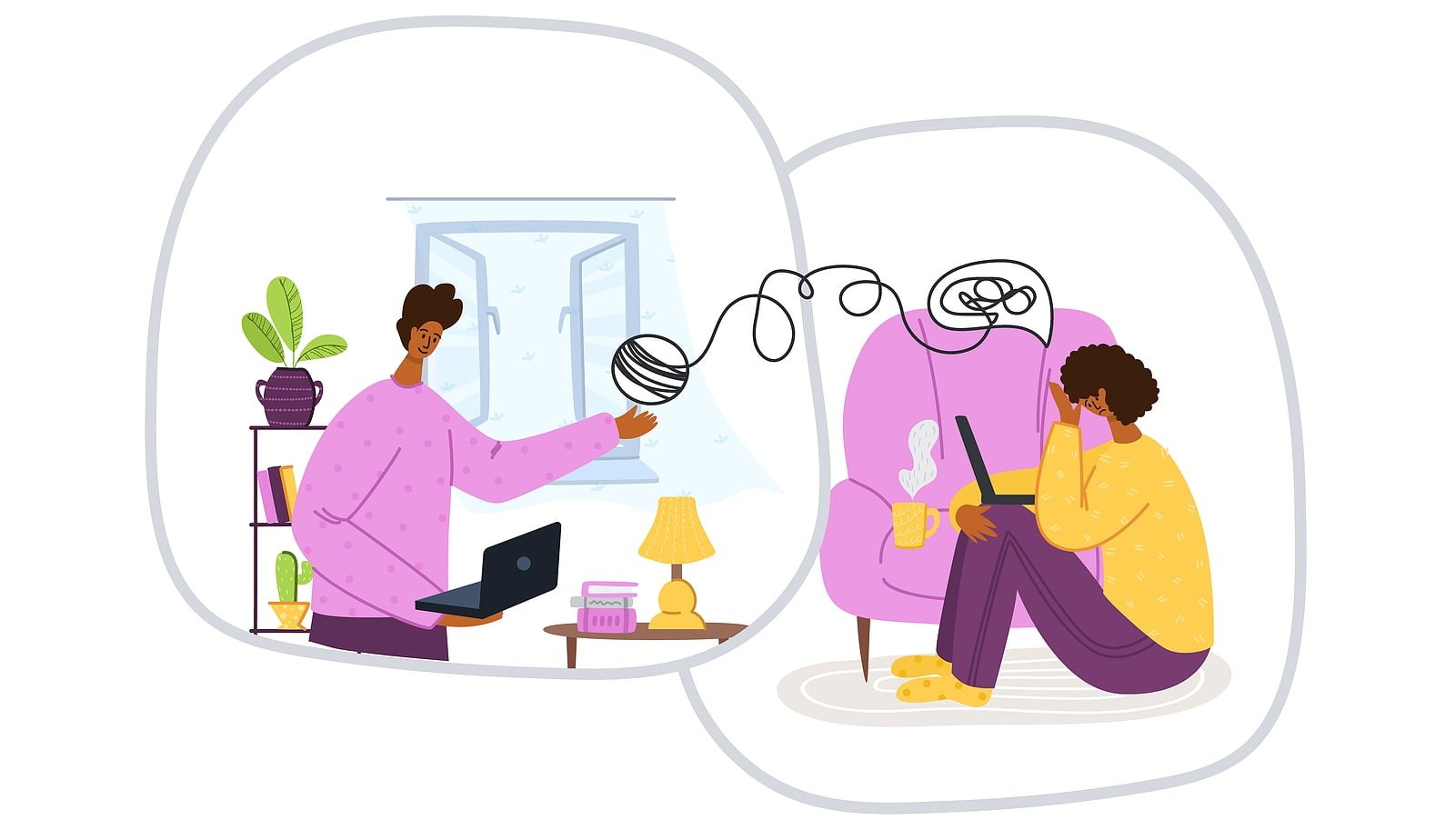 If you are still not sure whether to choose private or group therapy, you are welcome to call and speak to us or to send us a message letting us know how we can help.
How Does Private DBT Therapy Work?
If you decide to opt for private therapy, you will learn all of the same skills and techniques that are taught in group therapy sessions. Whilst the DBT groups meet every week at the same time, private therapy is more flexible. You can work out a schedule of treatment with your therapist that fits in with your lifestyle and allows you to make good progress without disturbing your home or work life. Each private therapy session lasts for 50 minutes and you may decide to have one or two sessions a week, depending on your specific needs and circumstances. In either case, you will cover all of the 4 core DBT modules in depth and, in the process, learn how to control your moods and emotions more effectively.
I have had so many years struggling with my anxiety and have seen a few professionals over the years but my time I have spent with Jason has really helped me become so much more confident in myself and I can't thank him enough for taking the time to understand my issues and giving me the best tools that will stay with me and help me to continue to grow and become a stronger woman. Thank you Jason.
Jack Christodoulou
2022-06-25
I would like to express my gratitude to Jason Ward for he's amazing help and getting me through dark times and into the light again. (I didn't think it was possible) many thanks life is better now.
Tallie Samuels
2021-08-10
I completed all four modules of the DBT course in 2020, and I can honestly say my life has been changed. I received so much support from Jason & Jerinda throughout my sessions, and I always felt like I was in a safe space with them. Throughout the course, I built up skills that I am still using today. I now find everyday life easier to manage; feel more in control of my emotional responses; am able to to tap into 'wise mind' rather than thinking in black & white; and I have a number of coping skills that make emotional crises easier to manage, when they do happen. This is the best course of therapy I have ever completed, and I have tried many different kinds in my lifetime. Thanks to the skills I learnt on the course, and to my own hard work integrating them into my life, I now live a life that feels worth living. Thank you.
Samantha Tran-Larkin
2019-11-26
I have completed 2 modules of the DBT programme so far and I can honestly say it has honestly changed my life. I am not a stranger to therapy. 2 years ago I started general psychotherapy following the birth of my 4th child as I developed what I thought was PND. I also had a volatile relationship. Because of my personal circumstances, things progressively got worse. When I started the DBT programme I was lost, angry, hopeless and saw this as my last chance to solve some crisis of mine. 2 modules in, I feel refreshed and optimistic. I understand myself more and get boundaries. I am more productive and for the first time in a long while I can actually say I am happy. I will most likely revisit certain modules for a little refresh and will continue to use my invaluable DBT skills everyday. Thank you Jason.
I was feeling insecure, anxious and depressed. I have joined the DBT sessions. I found it so helpful and effective. Before DBT, l wasn't aware of the skills. Jason and Jurenda are such amazing people with their knowledge and positivity. They were so supportive. They taught me the skills and motivated me a lot to use the skills. Gradually l felt l improved myself quite a lot and definitely l feel much better now than before. It also improved my self confidence. I am more aware of myself now than before. I learnt to be in wise mind rather than being too emotional or too rational. I want to thank Jason and Jurenda for their good work, support and kindness.
I've been working on my DBT skills with Jason for the past 9 months. In that time I have learnt enough repair damaged relationships with family, to begin to curb my unhealthy 'problem behaviours' and to start to build back up my self esteem and work on treating myself with kindness and compassion. I would thoroughly recommend DBT therapy, I think we all have a lot to learn from it. Without it and without Jason I wouldn't be where I am right now - I'm very grateful.
Jason helped me through a very low period in my life, I was depressed and anxious, using DBT skills helped resolve my symptoms.
Got the training last year here and I can clearly say I am much skilled in DBT. They have changed my skill and this course is really helpful. Thanks